8 February 2012
On 8 February the second year undergraduate students in Real Estate went on a tour of Stratford and Newham, London Docklands and the Olympic Park. This blog entry has taken a bit of time, but read on, it's worth it!
The field trip is part of the Integrative Project Module and gives students the opportunity to integrate the knowledge and experience gained over the first two years of the course by focusing attention on the potential development and investment opportunities created by the London 2012 Olympic Games. Students work in teams throughout the module to produce a number of outputs based on the field trip including: an architect's concept poster; an investment/development report and a marketing video.
One important aspect of the module is to give the students the opportunity to examine different aspects of the built environment and explore different approaches towards creating sustainable environments. Where better to start than the radical redevelopment taking place in Stratford and Newham and the London Docklands? By the time of the 2012 Olympics the transformation will be complete, but that is not the end of the story. When the 2012 Olympics draws to a close it will leave behind a very different East End of London and one which is determined to use the opportunities the 2012 Olympics has brought to bring about a renaissance that will be of lasting benefit to the communities that live there. For more information on the redevelopment of Stratford and Newham have a look at the
Stratford: London
website.
Tower Blocks in Stratford - photo by Ben Sutherland via Flickr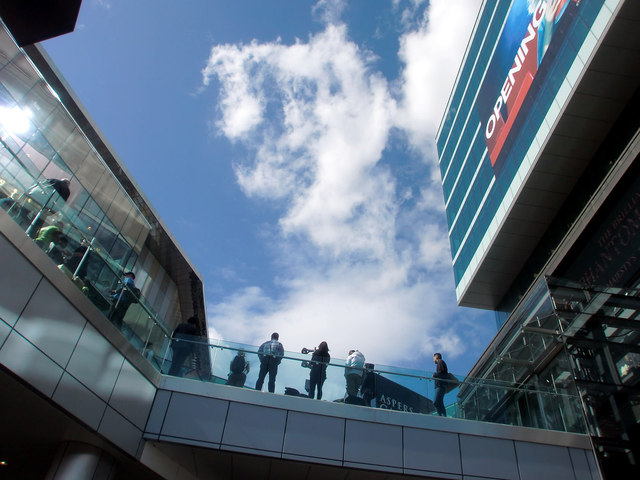 Stratford Westfield Shopping Centre - photo from Geograph UK
The Olympic Park itself is an excellent example of brownfield development. The site is being transformed from a brownfield site characterised by vast areas of derelict industrial land into a new urban park with improved infrastructure and a sustainable new quarter of London for the community to live work and play in after the 2012 Olympics (taken from the
Olympic Delivery Authority: From Brown to Green - Transforming the Olympic Park
- take a look it's a good document).
Artists Impression of the Olympic Park - photo by Estates Gazette via Flickr